CAN MOBILE HOMES BE FINANCED?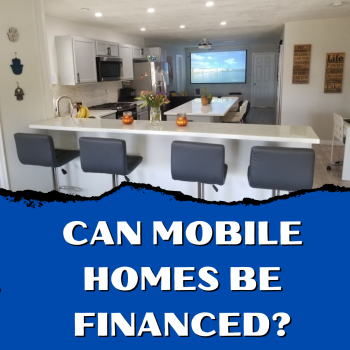 The 2021 Real Estate Market has been overwhelming for buyers to say the least. I'm sure you have heard of horror stories of sellers receiving multiple to sometimes up to 20 offers for their home or buyers willing to add thousands of dollars above asking price just to stand out from the demanding crowd. But this market will not stay like this permanently. As the season changes so will the real estate market and buyers will purchase a home when the time is right for them. How can you prepare yourself to be ahead from the other buyers? Here is a list of what mobile home lenders look for in applicants. Keep reading…
𝐈𝐌𝐏𝐎𝐑𝐓𝐀𝐍𝐓 𝐍𝐎𝐓𝐄:
Mobile Homes/ Manufactured Homes that sit in a Mobile Home Park need a specific type of a loan called
𝘾𝙝𝙖𝙩𝙩𝙚𝙡 𝙈𝙤𝙧𝙩𝙜𝙖𝙜𝙚.
Chattel mortgages finance the moveable property that does not have a permanent foundation. Unlike a traditional mortgage, which includes both home and the land it sits on. Until the Chattel Mortgage is paid off, the property belongs to the lender, once it's been paid off in full the lender will release the original Title to the property owner. Make sure you are applying for a Chattel Mortgage if you are buying a home in a mobile home park.
#𝟏: 𝐏𝐑𝐎𝐎𝐅 𝐎𝐅 𝐈𝐍𝐂𝐎𝐌𝐄:
There are only a few lenders that lend in Mobile Home Parks. Lenders are looking for the applicants that have an income. Whether that is being employed, self-employed, having a retirement income or having a large savings/inheritance, most lenders are willing to work with you if you have an income.
#𝟐: 𝐃𝐄𝐁𝐓 𝐓𝐎 𝐈𝐍𝐂𝐎𝐌𝐄:
This is determined on what is on the applicant(s) credit report. Lenders want to make sure you have a credit history; what debt you currently have, if you've had late payments and if you are paying back the current debt. In some cases bankruptcies may be eligible to qualify for a loan. However lenders may ask for a larger down payment, but it's possible. For a quick credit check, visit www.freecreditreport.com . You are eligible for a free credit report 1 time per year.
#𝟑: 𝐏𝐀𝐑𝐊 𝐀𝐏𝐏𝐑𝐎𝐕𝐀𝐋:
You are qualified for a mobile home loan, now what? One thing that gets overlooked is the Park Approved as a resident in the Mobile Home Park. Each Mobile Home Park has their own requirements. It can range from a background check, type of pets allowed in park, financial income verification etc, each park has their own specifics on residents being Park Approved.
#𝟒: 𝐈𝐃𝐄𝐍𝐓𝐈𝐅𝐈𝐂𝐀𝐓𝐈𝐎𝐍:
In the process of getting a home loan it's important to make sure the applicant's ID is current. Some lenders may accept Passport &/or Military ID or other other forms of ID- make sure it is current.
One thing to keep in mind. Every person's situation is different. If you have been denied a loan, have the experienced team at Action Mobile Homes take a look at it and we may be able to help you. For additional resources on buy/ sell your mobile home, current inventory &/or resources on related mobile home topics visit 𝒘𝒘𝒘.𝑴𝑯𝒐𝒏𝒍𝒚.𝒄𝒐𝒎.